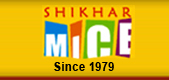 Celebrating 35 years of Success
Choose India as your Business and Corporate Meeting destination and rest assured that the tour would be a hit with the delegates as well as a productive affair where ideas and brainstorming is concerned.
About India
Basic Facts about India:
Republic of India
Area - 3,287,590 sq. km
Population -1,027,015,247 (2001)
Capital City - New Delhi
Religion - Secular state.
Hindu 80%, Muslim 14%, Christian 2.4%, Sikh 2%, Buddhist 0.7%, Jain 0.5%, Zoroastrian and others 0.4%.
Language - 18 official languages, 1652 dialects. English is widely spoken.
Government - Federal Democratic Republic
India your next congress Destination
The India's impressive variety of history and culture, from the ancient Gangetic Kingdoms to the present state, harmoniously blend to form a unique atmosphere in over a million square kilometers of scenic sights. From a bustling cosmopolitan city to the quiet countryside, hill station or a beach resort, India has destinations which offer a backdrop of unmatched beauty for a business meet. Conferences here bring fresh meaning of the concept of combining work with pleasure.
India's image as a conference destination is also projected through the chains of Hotels, providing international standards in facilities and services. Exclusive business hotels and exotic resorts, with meeting rooms of distinction, spacious convention halls, modern business centres and a wide range of conference facilities. With so much to offer and considering its diverse range of tourist attractions, Indian is now a big destination for conferences and conventions of the International kind. With the expansion in the network of airlines operations, better tourist surface transport system including the Indian railways ,new centres of information technology , many new convention centres, hotels and meeting facilities, India is now an important MICE destination. India is globally connected to a network of over 50 international airlines and several domestic airlines which provide convenient connectivity within India. The country also has the largest rail network in the world that connects the entire country from east to west and from north to south. India offers an educated manpower base where fluency in English and other official international languages can be expected.
An array of important conferences centres in the country are at New Delhi, Mumbai, Agra, Bangalore, Chennai, Cochin, Goa, Hyderabad, Jaipur and Kolkata.