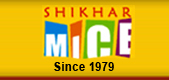 Celebrating 35 years of Success
Choose India as your Business and Corporate Meeting destination and rest assured that the tour would be a hit with the delegates as well as a productive affair where ideas and brainstorming is concerned.
Why Shikhar
The answer is actually quite simple. Time and money. Outsourcing any part or all of your meeting planning needs allows you to utilize your organization's internal resources to their best advantage. In short, you focus on the content of your meeting or conference while we manage the logistical details.
Also you instantly add, specialized expertise to your team with proven professionals with skills to get the job done. Our professionals bring a broad view to give you a 'new eye' and a different perspective. You gain the time you need to take that important deep breath, to step back from the details and find the calm time necessary to double check the 'big picture'.
We have the solutions...
At Shikhar MICE we give you more than just a promise to save you time and money. We deliver solutions.
Expand your resources / increase your staff - just when you need it
Senior multi-lingual staff with broad industry experience
The latest technology and flexible, customized software tools
Experts in site location and contract negotiations
A dedication to the highest level service and a personal touch
A team that will earn your trust and confidence