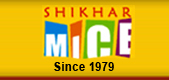 Celebrating 35 years of Success
Choose India as your Business and Corporate Meeting destination and rest assured that the tour would be a hit with the delegates as well as a productive affair where ideas and brainstorming is concerned.
Our Clients
Shikhar organises and supports all types of conferences and exhibitions - be they large or small international scientific conferences, regional or national workshops, high-level ministerial conferences or corporate gatherings of any size. Our client portfolio is as diverse as the areas we work in and as extensive as the services we offer.
Our clients include national and international associations and corporations, governmental and intergovernmental agencies, commercial and non-commercial organisations. Many clients work together with Shikhar on a long-term contract basis or on a recurring basis.
Association and Society Clients
Governmental Clients
Corporate Clients
What our clients have to say:
"Thanks to your efforts, the Council on Legislation has turned out to be a success and all the foreign delegates were deeply appreciative of all that you have done."
Kalyan Banerjee, Director, Rotary International

"The recent conference with which Shikhar travels were so closely associated attained its high level of success, in a great measure because of the zealous support that we received from you and your team at Shikhar Travels"
Dr. Prem Krishna, Professor of Civil Engineering, Roorkee University

I would like to thank you and your staff for making our International event a big success. It is difficult to express in words our deep gratitude and appreciation for your remarkable professional support and close cooperation."
Mrs. Gayatri Chandra, President, Delhi Interline Club.
Rotary International
Kalyan Banerjee, (Director - 1995-97)
34th Annual Scientific Meeting of International Medical Society of Paraplegia
A.S. Chahal, (Air Marshal)
University of Roorkee
Dr. Prem Krishna, (Professor of Civil Engineering)
Civil Engineering Department
Centre of Transportations Engg. (COTE) Dr. A.K. Gupta, (Professor & Coordinator (COTE)
34th Annual Scientific Meeting of International Medical Society of Paraplegia
Dr. Paul Dolfus, (M.D. France, President)
Tenth Symposium on Earthquake Engineering
D.K. Paul, (Professor)
Ninth International Conference on Wind Engineering
Organized by Indian Society for Wind Engineerin, (Prem Krishna)
Second Congress of Asian & Oceanic Physiological Societies
S.K. Manchanda, (President)
Recent Advances in Electron & Allied Microscopy
S.N. Chaturvedi, (Secy. General)
All India Institute of Medical Sciences
Dr. Surendra K. Manchanda, (Professor and Head)
The Federation of Indian Publishers
S.K. Ghai, (Chairman, SAARC Book Fair Committee )
Institute of Marketing and Management
Dr. Jagjit Singh, (Secretary General)
12th International Congress of Soil Science
Y.P. Bali, (Project Officer & Member, Tour Committees )