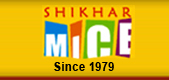 Celebrating 35 years of Success
Choose India as your Business and Corporate Meeting destination and rest assured that the tour would be a hit with the delegates as well as a productive affair where ideas and brainstorming is concerned.
Conferences
If you are in search for a popular, strategically located and lively venue for your forthcoming Conferences and Conventions, India is the destination that is apt for you.
The metropolitan cities have conferencing centers in the leading hotels and resorts. The state of the art convention centers and conference halls are equipped with the latest and the best in the world of communication. With high-speed broadband connection, teleconferencing facilities, high-end audio-visual equipment, hosting a Business Conferences and Conventions is a breeze.
Alternatively, you can also opt for a quieter ambience away from the hustle-bustle of the urban landscape to organize your Business Conventions and Conferences. The scenic locations and picturesque views are refreshing for the spirit and a catalyst for the mind. The heritage hotels, hill stations and beach resorts provide an idyllic mix of business and leisure facilities.
Whether in the city or in a secluded town, hotels and resorts in India, also offer group activities such as trekking, camping, horse riding, river rafting, and offsite excursions to further boost the team spirit and moral